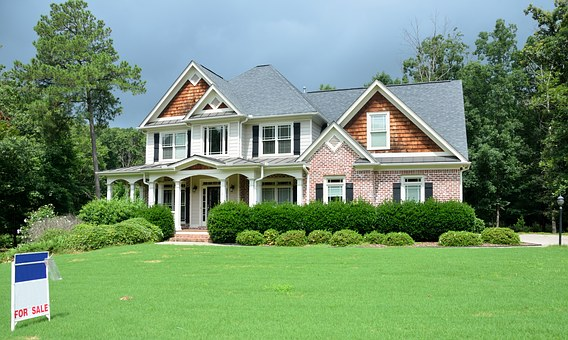 It was supposed to be the typical spring boom for real estate. But thanks to the coronavirus pandemic and subsequent economic downturn, what was expected to be a thriving sales season has hit a wall. On the real estate listing site Zillow, there's already been a 20 percent drop in people looking at listings, but experts say house-hunting activity is a little less obvious now as sales agents turn more and more to virtual showings. We asked industry experts for their predictions on how the 2020 real estate market will be affected by the pandemic:
Jobs market a driving force
When it comes to how many people will be buying homes in 2020, experts say the job market will serve as the determining factor of the real estate market's ultimate success or failure. According to data the Labor Department released Thursday, 6.65 million Americans filed first-time unemployment claims. That's a a dip of just 4 percent from the prior week's historic high, according to Globe reports.
"I have always found that what really makes a real estate market successful is employment," said Felice Watson, of the Law Offices of Felicia B. Watson in Southport, Conn. "If our job market does not fall apart, then I think the real estate market will do well."
While unemployment rates have already skyrocketed, it's not yet clear how many of those job losses will be permanent.
"The big question is how high unemployment ultimately goes," said Jeff Tucker, an economist at Zillow, who points out that while the effects are hard to forecast, much depends on how deep the economic recession goes and how long it lasts. "And how much the income and savings and confidence of people gets hammered over the next couple of months," he said.
Are sights set on summer?
In the Boston area, January and February were successful months for sales, thanks to the mild weather, a high demand for housing, and a shortage of inventory. That momentum was expected to continue into the spring, but the after the pandemic hit, transactions started falling through and some buyers backed out of sales, Tucker said.  With fewer listings on the market and social distancing canceling open houses, sales slowed down in March, but experts say there's no reason to believe that will continue the rest of the year.
"The real estate market was strong prior to COVID-19, with increased sales and prices through 2019 and the first two months of 2020," said Kristin Gennetti, a realtor with Century 21 North East. "We also have a housing shortage that will likely still be there when the pandemic ends."
Instead, the typically quiet late summer period may be the hot selling season of 2020.
"I think our busy season will now be July and August," said Sarah Maguire, a Boston-based realtor with Compass.
Sellers who were already planning to put their homes on the market this year will do it later, Maguire said. If they are gunning for competitive sales with multiple offers, they'll hold off for now in the hopes that the summer will bring the bidding wars they're hoping for.
Experts say that's not just wishful thinking on behalf of real estate agents.
"I think that makes sense; a lot of buyers who are going to hunker down and stay put right now will be coming out of the woodwork in July and August," Tucker said.
In the Boston area, continued low long-term mortgage rates will encourage many prospective buyers to hop into the market later this year.
"Rates and inventory will still be low," Maguire said regarding the rest of 2020.
For now, while sales may not be as competitive as they would be without the pandemic, it won't stop homes from selling, she said. "Will there be as many bidding wars? Probably not without open houses to build hype and excitement. The homes that are marketed and priced properly will sell, just like they normally would."
Renters will be hard hit
As with most economic downturns during history, it's the people who don't have sustained savings that will hurt the most. And typically, those people are renters.
"I think renters are the most vulnerable to the immediate impact of this crisis," said Tucker, citing people who work as waiters and bartenders in the hospitality industry. "A lot of the industries that have been laid off the most so far, those are industries where a disproportionate share of the workers are renters." And since renters are often forced to spend a larger share of their income on housing and have less savings set aside to ride out a crisis, they're particularly in danger. "That's a major crisis for them," Tucker added.
Efforts to help renters weather the financial hardship are sprouting up. Boston Mayor Marty Walsh has announced a $3 million Rental Relief Fund. According to realtors, there hasn't yet been a reduction in people looking to rent; however, landlords are looking for a greater sense of financial security from potential tenants.
"Our clients with rental properties are also requiring a more extensive employment reference to ensure that applicants are currently employed or have been furloughed as opposed to laid off," Gennetti said. " In some cases they are also looking for proof of a more robust savings to ensure the rent can be covered for an extended amount of time without steady income." This could greatly affect renters that need to move sooner rather than later, she added.
The housing instability will revive a trend that rose in popularity after the 2008 recession: Renters will move in with friends or relatives to keep a roof over their head, and it will have a domino effect: Landlords will lose tenants and income.
Zucker said it is unlikely that rents will decrease all that much. "I don't see landlords en masse slashing rents," Tucker said.
Technology will play an even bigger role
When it became clear that people couldn't spend their weekends cruising open houses anymore, realtors scrambled to make the most of their virtual offerings.
"Technology, now more than ever, is instrumental in keeping our business moving in a positive direction during this crisis," said Gennetti, noting the switch to video tours, Zoom, and an increased reliance on social media to connect with prospective buyers and sellers. "It is critical for agents to adapt and be forward thinking and creative in this climate."
On Zillow, there was a 188 percent increase in three-dimensional home tours in March over the previous month, Tucker said, citing a study by the website.
Still, it's unlikely that many people are willing to accept a virtual tour as a legitimate substitution for seeing a house in person.
"Agents and sellers are quick to recognize this is an industry that continues to involve a lot of face-to-face interactions," Tucker said. "People want to walk through a home in person, but especially in the earlier stage of the home search."
This is not 2008
Realtors and economists alike are quick to point out the differences between the current real estate market and the one that collapsed in 2008. In Boston, the market was strong prior to COVID-19, thanks to a mild winter and low mortgage rates that got buyers out looking for property early this year. But we also have a housing shortage — a strong contrast to what we faced in 2008.
"In 2008, there was a surplus of inventory, an overproduction of new construction, and the reigns weren't as tight on the lending side, meaning buyers could more easily get mortgages," Gennetti said. "We don't see those same factors in 2020."
Through 2019 and the first two months of 2020, Boston saw increased home sales and home prices, she said. "Alternatively, in 2008 there was a surplus of inventory, an overproduction of new construction, and the reins weren't as tight on the lending side, meaning buyers could more easily get mortgages. We don't see those same factors in 2020."
Tucker echoes the sentiment that it was the housing market that helped cause the 2008 recession.
"They discovered all their foundations were cracking under them, causing the financial crisis, causing a recession," Tucker said. "It very much snowballed in the housing market. This is a case where we know the cause of the recession is not the housing market."
After the year continues, it's unlikely that home prices will drop all that much, he added.
"Once the economy can return to normal, and people can get back to normal, I think the fundamental shortage of homes will still be there," said Tucker. "That's why I don't see much prospect for prices to fall very far as a consequence of this."